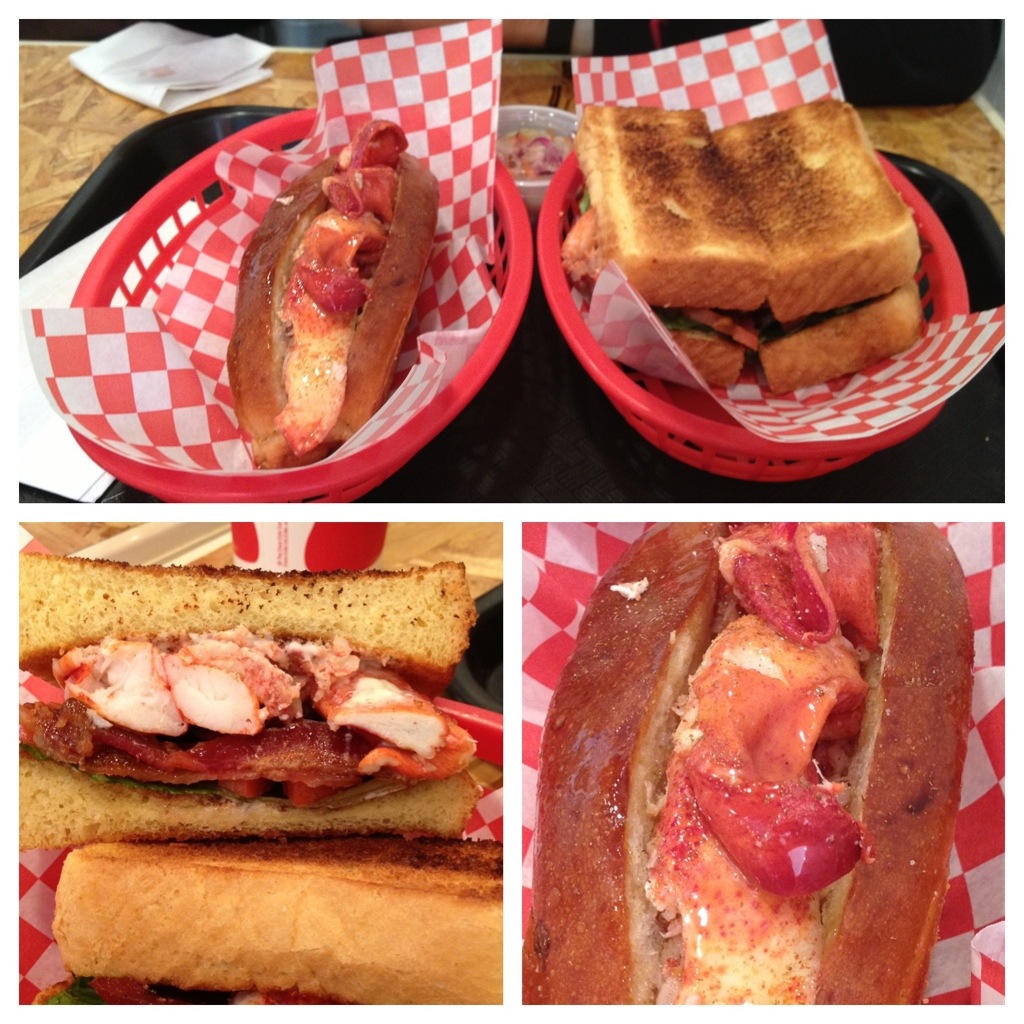 Gail had an appointment near tourist central so I met her for lunch. Like I'm apt to do, I cross-referenced my places to eat list with Chicago's Gold Coast and came up with Da Lobsta, which I heard about via Steve Dolinsky's Twitter a few months ago.
We got the Classic Lobster Roll, a Lobster BLT, and a fountain drink. It came to $32. That's not a lot of quantity for your dollar, but it's a lot of flavor for your dollar. This stuff was top flight. They don't skimp on the lobster and they prepare this stuff nicely.
I'm not a heavy user of the lobster roll, but Gail is. Whenever she orders it I usually take a bite and think, "Yeah, that's good." But I never really crave it. Truth be told, I arranged this lobster roll adventure for Gail because when it comes to food outings, I'm very unselfish.
Usually when I do new food things, I order the "classic" or the "original" because I really like to get a feel for the baseline. But when the counter person said, "Our special today is a Lobster BLT," I crumbled and gave in to the temptation. That's it in the upper right and the lower left of the picture. Sure, it may not be classic, northeastern fare, but it was a stellar sandwich.
Just like it says, it was the standard BLT ingredients with a little mayo, on Texas Toast, with a metric boatload of fresh, chilled knuckle and claw crab meat. It had the savory saltiness of bacon, the crunch of toast and vegetables, and the slight sweet meatiness of crab. I can feel my teeth sinking through this thing in mental slow motion right now, about two days after. The memories are prompting a wispy fondness that defies the lightness in my pocketbook after paying for it.
It's a small storefront amongst the tourist haven of the Gold Coast with about 15 seats inside and a few tables outside. We went mid-afternoon and there were only a few diners there. I'm assuming they get a nice lunch crowd, but I don't know for sure.
Gail loved her lobster role. We didn't have anything to take home.