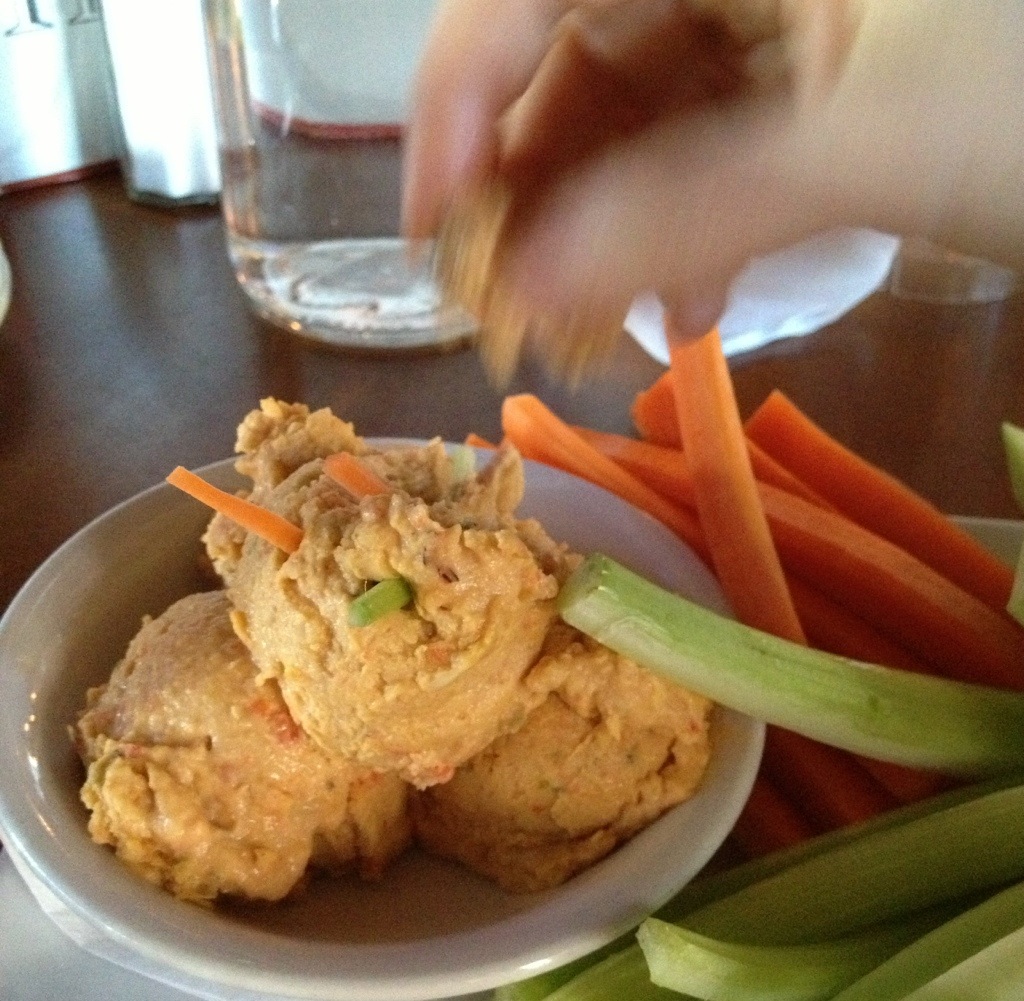 I don't know how to use this word "redux," but I'm giving it a shot while I dive in to some quality bar food. In fact, I'm going to highlight one of the most consistently pleasurable bar experiences I have. I'm not sure that you can get a more complete package than DeLux at 669 N. Milwaukee. The place always comes through.
When I say complete package, I'm talking great service, hometown atmosphere, no pretensions, lots of TVs, and a greatly diversified menu. We've talked about the burger before, enough said. Their pizza has been recently upgraded and I've fallen in love with it. And now I've discovered their hummus is top flight. Nobody combines burgers, pizza, and hummus with the non-food features like DeLux. It's the whole package.
It's such a great combo that my wife will go with me to this place to watch sports. Okay, maybe she won't watch sports, but she'll consume hummus and hang out with her laptop. That's cool. See that blurry hand going in for some hummus? That's Gail happening my friends.
This isn't your average hummus. It has a low moisture content so it stays nicely on whatever you're using to transport it to your mouth, and transportation options abound. It gets served with pita pieces, tortilla chips, olives, celery, and carrots. And trust me, you'll never have to ask the wait staff for "more bread." That addresses one of my biggest fine dining pet peeves – too little starch for a spreadable appetizer. You don't worry about that at DeLux.
The hummus also has some zing, which comes from red pepper and jalapeño. It's a perfect amount of zing, enough to keep me interested but not enough to discourage Gail. Wow, they hit all the right notes at this place.
Every time I leave this place – every damn time – I say to myself, "I gotta come here more ." That's a compliment.