The urban hike Spacca Black Dog went well. Let's discuss. More after the jump.
All total, I was out from about 7:45am to 6:30pm. That was a little longer than I had expected, but that's mostly because the day, the crowd, and the venue kicked ass, I thought. The actual 10 mile hike went from about 10am – 5pm I think.
The 8am bodyweight PT at Eckhart Park was attended only by Gail and I. That's fine, I didn't expect anybody to show up that early. I do, however, encourage participation the bodyweight PT sessions because Eckhart Park has a very nice, soft surface and it's important to get some upper body focused fitness in. Just think about it next time.
The meeting point at Big Shoulders Coffee felt right; it always feels right. Suburbanites and city dwellers seemed to have an easy time getting there and the free coffee was flowing. I love that place with the big windows and open, modern interior and the classic Chicago poem by Carl Sandburg. Tim the owner was generous to offer this up and I think our crowd of around 15 was pretty manageable. Thanks to Kathy behind the counter for kicking off a day of great service. Many thanks.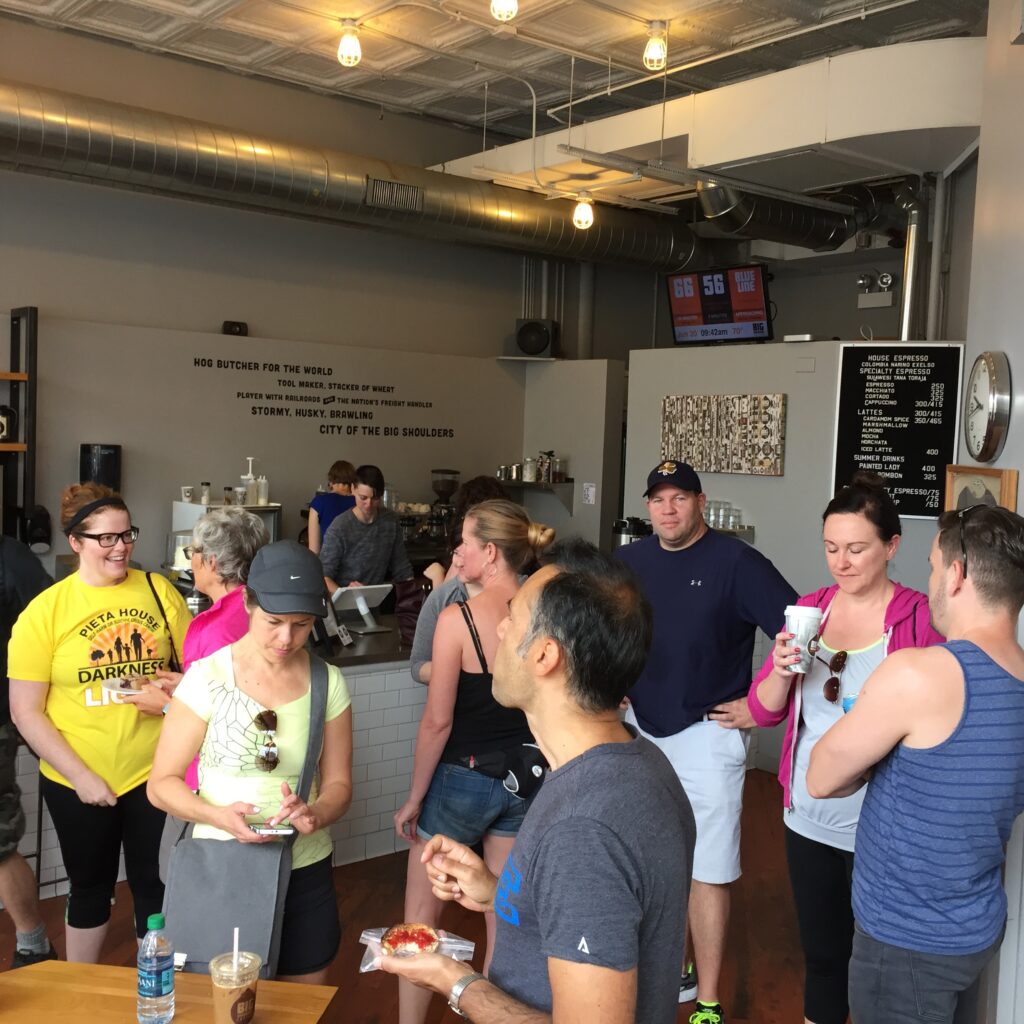 The first leg of five miles took about 15 minutes longer than I expected. I kind of miscalculated on that. But the delay allowed Pete and Marla to see their daughter off to the beach, so that was an added bonus. Our arrival time at Spacca Napoli was just before the lunch rush so we were able to snag a sweet outdoor table.
I screwed up by not getting on top of the Spacca Napoli seating situation. That's my fault and I apologize in general. However, the guy running the show at Spacca did us up right and gave us the best of all possible options – a huge, 15 seat table outdoors on a beautiful late spring day. Wow.
I think I echo the group by saying that our waiter at Spacca was absolutely stupendous. I wish I knew his name because he deserves a medal. He was knowledgeable, patient, caring, and spot-on with recommendations. The Brouilly (chilled, red wine) was a great call and it paired perfectly with the spicy Diavola and the creamy Margherita pizza. There was nothing to take home. We dominated the pizza, salads, and burrata.
Then it was off to Half Acre for a beer. I had the Space IPA and it was killer. The place was absolutely rocking but getting a beer was very easy despite the crowd. Seats turned over quickly so we enjoyed about half our beer sitting down. I love the etched wood wall-covering and the modern feel. They are serious professionals.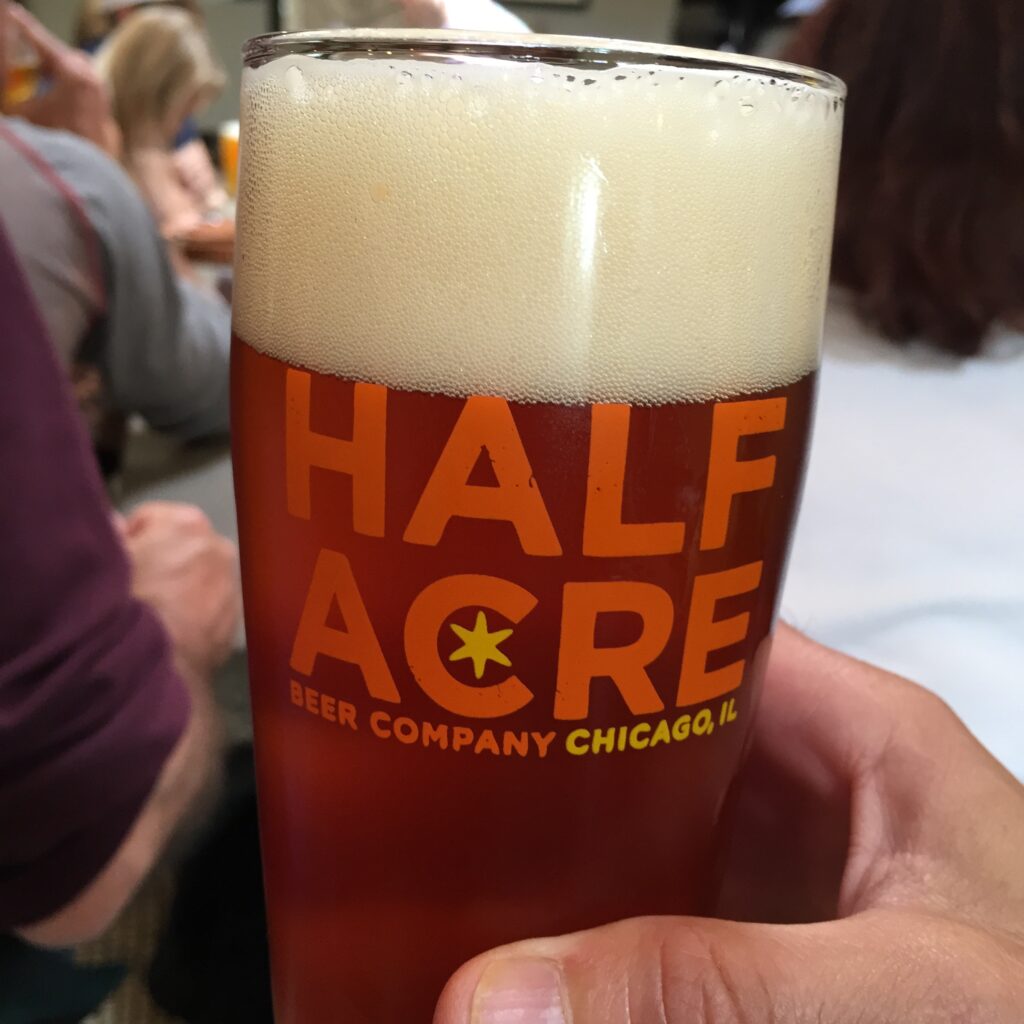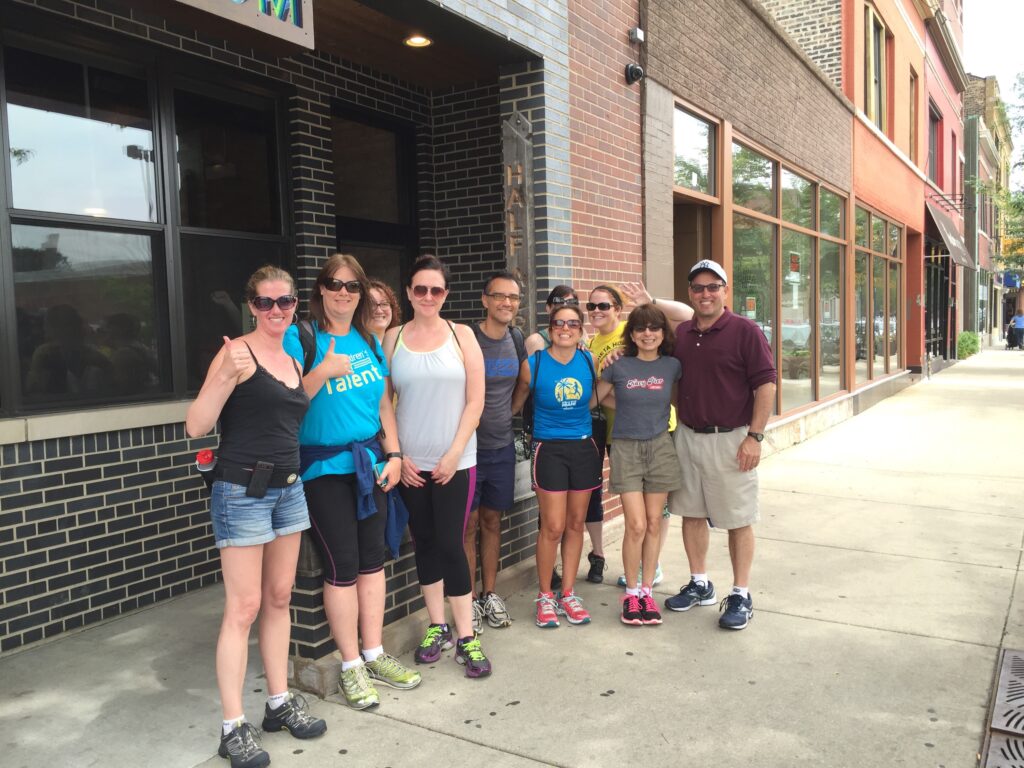 Then we headed to Begyle for beer round #2. Begyle had a completely different feel from Half Acre but it was just as enjoyable. I went for the IPA again and had the Hophazardly. Again, killer. It was less crowded and more intimate, we pulled a couple of tables together and even made friends with dog seated at the next table. Nice folks. Reminded me of a damn beer commercial, but with better beer.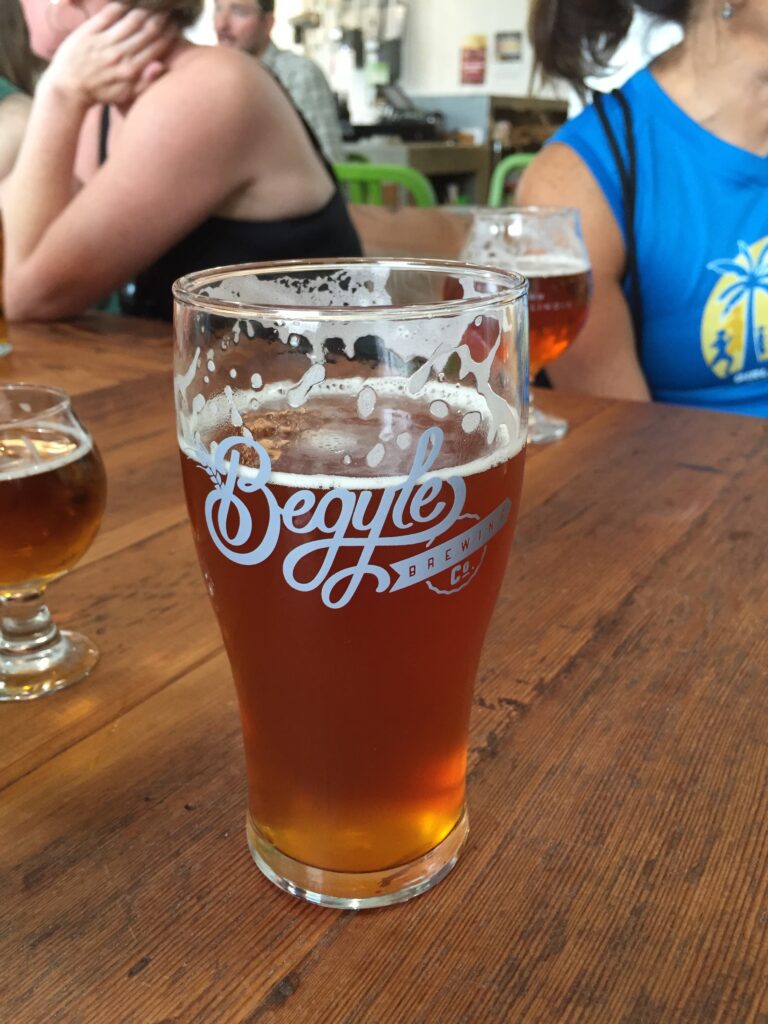 The last five miles were a slog down Damen, broken up by a bathroom break at the Golfsmith at Diversey. That's actually the closest I've been to playing golf all year.
Finally we ended up at Black Dog Gelato and celebrated with more consumption. The granting of the urban hike patches came after the last scoop of gelato was consumed. Peter and Leticia still had a five mile bike ride back north, bless them. Way to go urban warriors!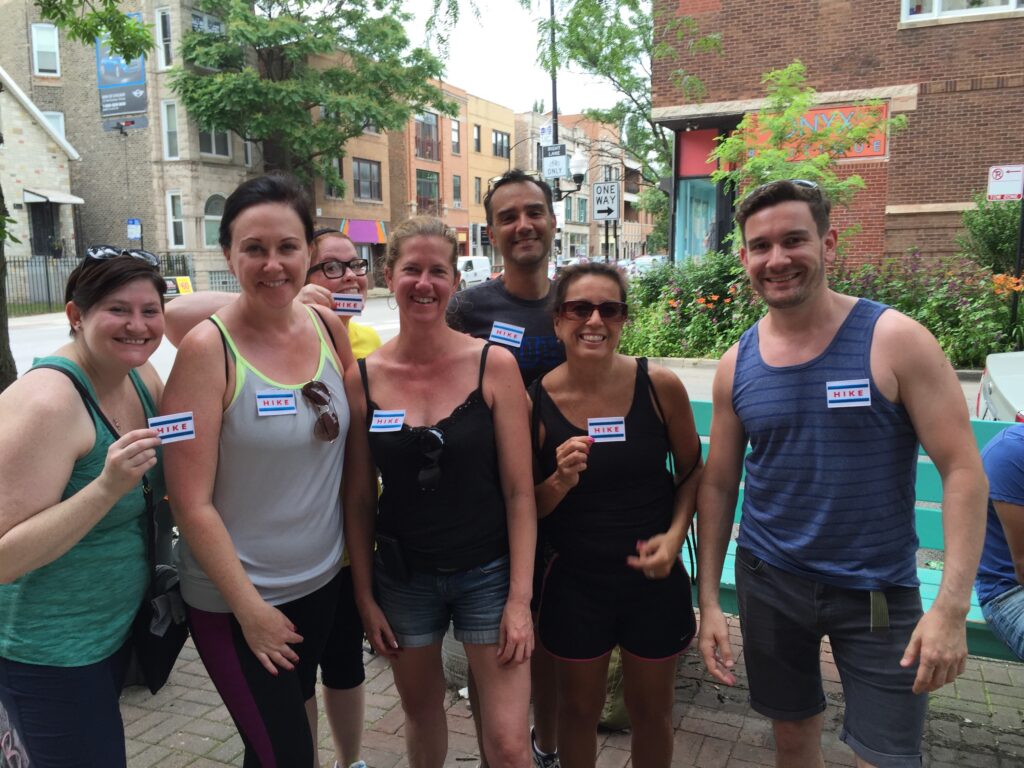 That's not a photobomb by Val, she earned the patch. Oh, and thanks Val for the post walk beers, I love the Woody. Thanks everybody for hanging out with Gail and I for most of the day.
Your feedback is much appreciated. It didn't feel like a long day to me, but I'd be interested to hear if you thought it was too long. When we were just north of Black Dog I heard someone say, "It's about 5:00," and I was a little shocked. I'd also like any ideas on future hikes.
Great day! Thanks everybody.