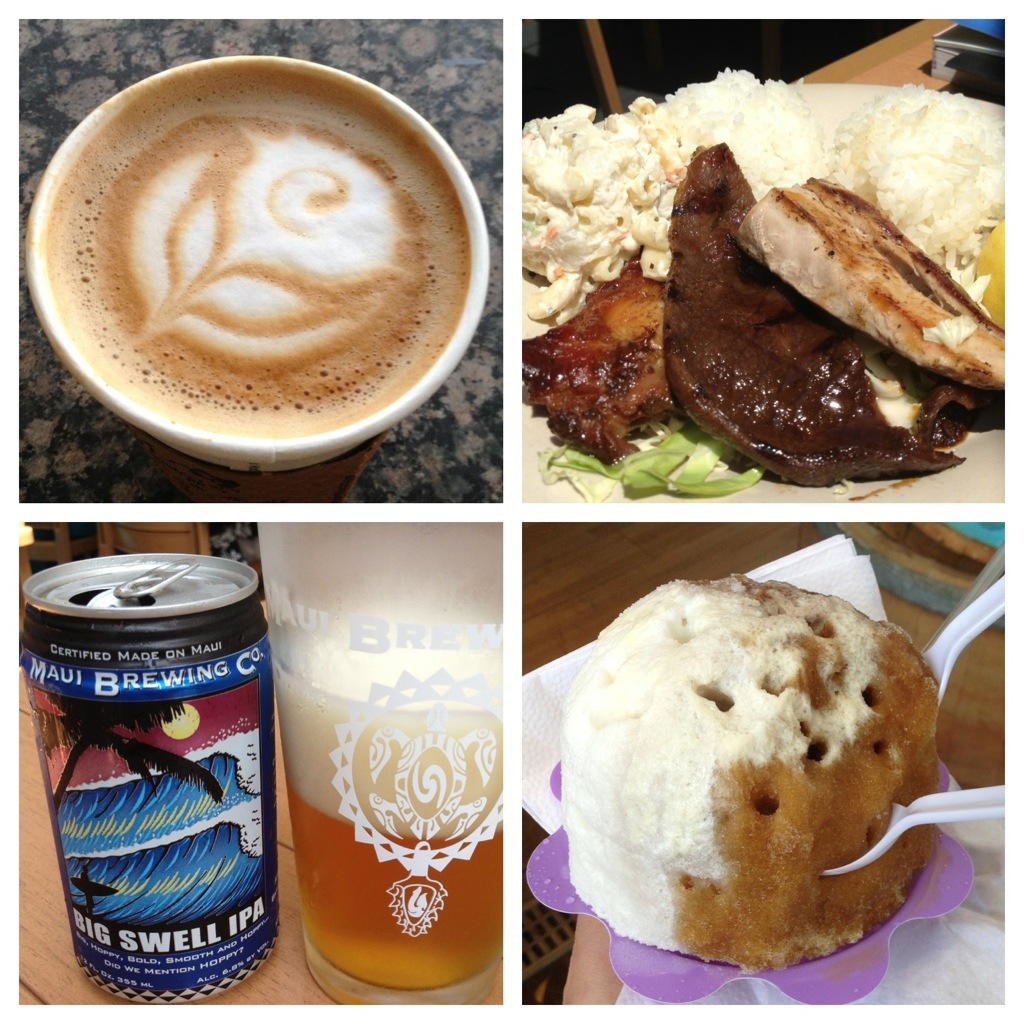 Our first full day in Maui was a decent food day. We stayed pretty local, got a great lead on a farm lunch outing, and wrapped it up with wine and cheese on the balcony.
Gail's latte from the Aina Gourmet Market in the Ritz-Carlton had some solid art that stood up perfectly in a to-go cup, with lid, and a walk back to the room. We also learned that the coffee came from an up country farm that has a tour and farm table lunch. We booked it for Monday.
We had lunch at the Aloha Mixed Plate in Lahaina. I had the aptly named Aloha Mixed Plate, which was hebi (swordfish), shoyu chicken, teriyaki beef, two scoops of rice, and a scoop of mac-potato salad. It's off the beaten path, north of downtown Lahaina, with ocean views. My plate was $12.95, solid value. I washed it down with a great local IPA from Maui Brewing.
The big dessert item of the day was Ulalani Shave Ice. Dayum! It exceeded expectations. It's a big ball of shave ice (don't ask me where the "d" is) from a strange contraption sitting on the shop counter. I got a non-standard version because I told them I wanted the whole experience. First they put a scoop of macadamia nut ice cream in the bottom. Then they added the shave ice, shaped and formed it, and poked it full of holes. Next, they doused it with three equal portions of chocolate syrup, coconut syrup, and coffee syrup. It's a thin syrup that seeps through the weep holes on the ice, poured out of the flavor bottles you see at coffee shops. Finally, they added some creme, which basically looked like they poured half-and-half over it. Crazy awesome. Seriously.
We really weren't hungry after this, so we just did a little wine and cheese from Safeway. Great day.